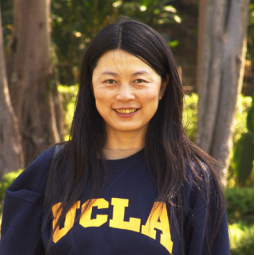 is a native of Beijing. Ms. Chen is a former administrative manager of an important national Chinese government bureau. Her skill and knowledge about working with the Chinese government and navigating local bureaucracies in Yunnan have been invaluable since she joined the Board of Directors in 2006. In 2008, Ms. Chen worked with Dr. Detrano to start taking care of poor children with congenital heart disease. With Ms. Chen's help, the China California Heart Watch has since sent over 350 children for corrective, life-saving surgeries. In 2013, Ms. Chen helped start a separate division within the China California Heart Watch for pediatric cardiac care. In 2014, Ms. Chen was appointed to serve as Associate Director of China Cal. In 2016, Ms. Chen succeeded founding director Dr. Robert Detrano as CEO.
is a native of Lisle, IL. He graduated with a degree in Biochemistry, Biophysics and Molecular Biology from Whitman College in Walla Walla, WA. Mr. Zhang first came to China as an EFL teacher at Xi'an Northwest Polytechnic University before focusing his attention towards access to health care in rural Yunnan. Mr. Zhang is the director of marketing for the externship program and assists China Cal in the American side of operations currently from Chicago, IL.
completed her medical education at Mt. Sinai School of Medicine and a pediatric fellowship at Boston Children's Hospital. She has worked all around the US and the Globe as a pediatric cardiologist and in her free time enjoys cooking, travelling and playing blues & fold music on a variety of instruments. Dr. Becker is joining us from Texas Children's Hospital.
, serves as Advisor in Pediatric Cardiology to the China California Heart Watch. Dr. Chow graduated from the University of Hong Kong Medical School in 1995 and obtained his Masters in Public Health in 2013. Dr. Chow completed fellowship training in pediatrics in 2003. In 2007, he attained further training in both pediatric cardiology and adult congenital heart disease at the Royal Brompton Hospital in London. Dr. Chow works in the Department of Pediatric Cardiology at Queen Mary Hospital, one of the tertiary centers for congenital heart diseases in Hong Kong, where his work involves managing both children and adults with congenital heart diseases. In 2012, Dr. Chow joined the China California Heart Watch as an advisor. Dr. Chow has worked with Dr. Detrano during a number of missions to screen children for congenital heart diseases throughout Yunnan. In addition, Dr. Chow provides the China California Heart Watch with expert knowledge and consultation advice on the clinical management of children with congenital heart diseases. During his trips to Yunnan, he also gives lectures and hosts training seminars on congenital heart diseases.
is from Brazil where he trained and worked as a adult and pediatric cardiologist before coming to America to pursue further training at St. Joseph's Hospital in New Jersey and UCSF in San Francisco. In his free time he enjoys travelling with his wife and children and taking advantage of the ample skiing in Colorado. Dr. Lutterbach is joining us from Children's Hospital of Colorado
has worked with the China California Heart Watch since 2012. He is Associate Professor in Epidemiology at the Kunming Medical University and is also the Executive Deputy Secretary General for the Yunnan Health and Development Research Association. Professor Tang received his MPH from Mahidol University in Bangkok, Thailand, and received his PhD in the Department of Epidemiology at UCLA. Dr. Tang has 20 years experience in reproductive health and services, has conducted sixteen national and provincial research programs in rural China. He has authored or co-authored over 50 peer-reviewed manuscripts in his principal research areas of sexuality and reproductive health, quality of care in family planning services and HIV/AIDS prevention and control in mobile population in southeast Asia. He is also a string member of academic Network of Public Health in The Greater Mekong Subregion (GMS) counties, and has served as Deputy Director and Core Lecturer for the World Bank Partnership Training Program.
has worked with the China California Heart Watch since 2011. Professor Tao is the director of the Cardiology Department at the Kunming Medical University First Affiliate Hospital, the largest hospital in Yunnan Province and a position he has served in since 2000. He is also the editor of eight medical journals, and he serves as Vice Director of the Yunnan Province Center for Disease Control. Professor Guo graduated from Kunming Medical University in 1982 and then completed a master's degree in Cardiology at the same university in 1987. Between 2001 and 2002, he was a visiting scholar at the University of Minnesota School of Medicine. Professor Tao is a leader in the area of cardiac and cerebrovascular disease research in Yunnan Province.
serves as a pro-bono legal counsel for the China California Heart Watch. David received his BA from Georgetown and his JD from Columbia University. He is a founding partner of Lundy Fleming LLP, a partnership that devotes a significant portion of its practice to the legal representation of nonprofit and tax-exempt organizations. Mr. Flynn is a nationally recognized as an expert in tax-exempt organization matters, and has spoken and written frequently on such matters. Mr. Flynn has more than 35 years of experience as a tax attorney and advisor, focusing primarily on nonprofit and tax-exempt organizations. He has advised hospitals and health systems, colleges and universities, private foundations and other charitable organizations, as well as trade associations, regarding corporate organization and reorganizations, mergers and acquisitions, restructurings, tax-exempt financing, unrelated business income, physician-hospital transactions and arrangements, and a variety of tax compliance matters.